Date: August 22, 2014
Time: 6:00 pm to 9:00 pm
The final Third Coast Activist Summer Movie Night of 2014 will feature the Academy Award nominated film "Omar." Come at 6pm for snacks, Topo Chico, and a special treat – beer from 4th Tap Brewery, a worker owned cooperative. The film will start at 7.
"Omar" is a fast-paced thriller set in the occupied West Bank. There are so many surprises and twists that it's best not to describe the plot and give anything away. Come for refreshments and socializing at 6, film starts at 7.
Space is limited so it's best to arrive closer to 6pm in order to secure a seat for the film.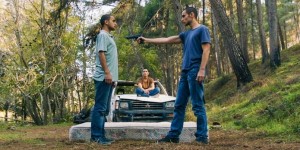 "A MASTERPIECE!…the perfect balance of romance and action."
- Maysoon Zayid, The Daily Beast
"Caught in the middle, there's no guessing which way this emblematic youth will jump. The story dishes out action and surprises without losing its political intent."
- Steve Rose, The Guardian
"An incredible love story"
- Betsy Sharkey, Los Angeles Times
Location: 5604 Manor, 5604 Manor Rd., Austin 78723